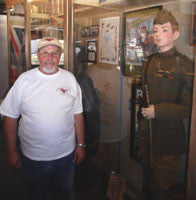 History on a Shirt
Luckiest Man Alive pdf
Ripley's "Luckiest Man Alive" Captain Hedley - PDF version - Andy Parks Museum Talk June 11, 2016
FREE FOR NOW
Ripley's Believe It Or Not called him the "Luckiest Man Alive", for the day Captain Hedley fell out of his airplane and then fell back onto the tail as it dove. He crawled back in and survived. In this museum talk, given June 11th, 2016 to a small crowd of friends of the museum, Vintage Aero Flying Museum Andy Parks tells the full story of Captain Hedley, with the help of Jack Stokes Ballard - author of a not-yet-published book about Hedley - and Hedley's grandson Dennis Hedley.
As the talk reveals, Hedley was more than just lucky, he was impressive even among World War 1 aces, though his mouth sometimes got him in trouble. After being shot down by a red Fokker triplane he became a POW, and eventually an American.
Museum talks are at the Vintage Aero Flying Museum on second Saturdays, which are museum free days, but donations are appreciated.
---
Share this Product
---
More from this collection